GP Extended Access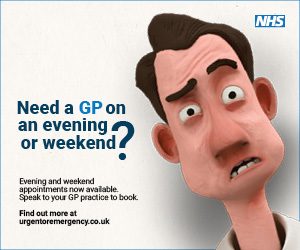 Greystoke Surgery now offers evening and weekend same day GP and pre-bookable nurse appointments to patients.  Please contact reception for further details.
Our appointment system is Same Day Access for GP Appoinments, please see home page for further details and Patient Leaflet.
Consultations are by appointment only. Contact the surgery by telephone on 01670 511393 or in person between 8am and 6pm. Urgent appointments will always be accommodated on the same day but not necessarily with a particular doctor.
Please see below for GP Rotas advising of availability:
Listed below is the doctor rota so that you can ring on a day your GP is working. This can sometimes vary for holiday cover.  (The highlighted sessions are eg. Alternate):
| | | | | | | | | | | |
| --- | --- | --- | --- | --- | --- | --- | --- | --- | --- | --- |
| | Mon AM | Mon PM | Tues AM | Tues PM | Wed AM | Wed PM | Thurs AM | Thurs PM | Fri AM | Fri PM |
| | | | | | | | | | | |
| Dr Thompson | x | | x | x | | | x | | x | x |
| Dr Glennie | x | | x | x | x | x | x | | x | x |
| Dr Kurian | x | x | | | | | x | x | x | |
| Dr Marshall | x | | x | x | x | x | | | x | x |
| Dr Denman | x | | | | x | x | | | x | x |
| Dr Shaw | x | x | x | | x | x | | | | |
| | | | | | | | | | | |
| Kayleigh Angus  – ANP | x | x | x | x | | | x | x | x | x |
Dr Thompson: Alternate Monday am, Tuesday am, Alternate Tuesday pm, Thursday am, Fri day am or pm
Dr Glennie: Monday am, Tuesday or Wednesday all day, Thursday am, Friday am or pm
Dr Kurian: Monday all day, Thursday all day, Friday am
Dr Marshall: Monday am, Tuesday or Wednesday all day, Friday am or pm
Dr Denman: Monday am, Wednesday all day, Friday all day
Dr Shaw: Monday all day, Tuesday am, Wednesday all day
Kayleigh Angus ANP: Monday all day, Tuesday all day, Thursday all day, Friday all day.
Book Appointments Online
Using Systm Online you can book a telephone consultation and request repeat prescriptions online. You will need to register for a special access number and password and you must be 18 years old. To register visit the surgery reception and complete the necessary paperwork. You will need to bring with you 2 pieces of identification one showing your registered address and one showing a recent picture of yourself.
When you are registered the online system can be accessed from the home page of our website by clicking the Systm Online Button on the righthand side of the home page.  Please note, when booking an online telephone consultation, the time you choose is a guide only, you will be phoned back by the doctor some time during that same day.  These online slots release 24 hours in advance.
You will need:
Practice ID Number
Access ID Number
Password
Chaperone
All patients are entitled to have a chaperone present for any consultation, examination or procedure where they feel one is required. This chaperone may be a family member or friend. On occasions you may prefer a formal chaperone to be present, i.e a trained member of staff. Wherever possible we would ask you to make this request at the time of booking an appointment so that arrangements can be made and your appointment is not delayed in any way. Where this is not possible we will endeavour to provide a formal chaperone at the time of request .However occasionally it may be necessary to reschedule your appointment. Your healthcare professional may also require a chaperone to be present for certain consultations in accordance with our chaperone policy.
Home Visits
For housebound patients who are physically unable to attend the surgery home visits can be requested.  This is done via a telephone appointment with a GP who will work with you to determine the best way to asses you and arrange a home visit if required. Home visits are at the discretion of the GP and are usually done at lunchtime.
It is very helpful for us if patients request home visits before 10am, if possible. Visits requested later than this which cannot wait until the following day may not be able to happen until the evening, after we have completed our surgeries. Our doctors typically see four patients in the practice in the time it takes to do a single home visit. For this reason, we ask our patients to come to the practice if it is at all possible. Lack of transport is not an appropriate reason for requesting a home visit.
Telephone Advice
The majority of appointments with our doctors and many of our nurses appointments are now carried out by telephone avoiding the need for some patients to attend the surgery in person. We can also offer video consultations where appropriate.
Repeat Prescribing
We have a computerised system for our prescriptions. If your doctor has authorised a repeat prescription you will be able to use the counterfoil of your previous prescription to order further supplies or you may telephone the surgery to make such a request. However, we do ask for at least 48 hours notice excluding the weekend. You may also request repeat prescriptions using the Online System, as mentioned above in book appointments online.
Emergencies
For urgent requests a doctor can be contacted throughout the day by ringing the surgery number – 01670 511393.
What to do when the GP practice is closed:
– If it's a life-threatening emergency call 999
– If you need medical help but it's not an emergency call 111
During normal practice opening hours, the practice remains your first point of contact
for all routine requests.
Test Results
Please telephone for results in the afternoon when the receptionist can give more time to your request and when our telephone lines are less busy.
Disabled Access
The surgery provides disabled car parking, easy access through wide automatic doors and a lift to the surgery.