Please join Malcolm Connelly for a Kooth Awareness Session for all Parents & Carers across #Northumberland. Malcolm will explain how Kooth.com can support Young People aged 11-25 across the County with their emotional wellbeing.
https://www.eventbrite.co.uk/e/kooth-parent-and-carer-session-northumberland-tickets-195112174767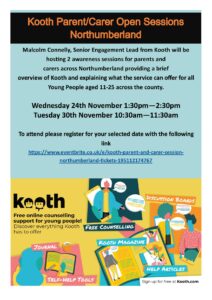 Where to get urgent help for mental health
If you need help for a mental health crisis or emergency, you should get immediate expert advice and assessment.
You can find your local mental health helpline via:
DO YOU CARE FOR A CHILD WITH ADDITIONAL NEEDS?
Do you live in the North East or North Cumbria?
COME ALONG TO OUR FREE VIRTUAL WORKSHOPS!
Our workshops can be tailored to meet your individual needs. Our listening ear approach will help you decide which options suit you and your child best.
Emotional and practical support | Support around autism
Music therapy | Play therapy | Makaton
Sensory workshops | Speech & language support
Come along and meet other parents in a relaxed environment and find out information to support you and your family.
 For further information please contact: jaime.dowling@contact.org.uk
Just Say app launched
Just Say is a new app created to improve access to health and wellbeing advice and services for young people aged 16-25 across Northumberland. It aims to help young people get advice and support to find their way to be happy, healthy, safe and independent whenever they need to at the earliest opportunity. The app brings together local information as well as signposting over 250 services for young people. Mental health support, financial support, relationship advice and more as well as games, daily positive messages and activities, goal setting and trophies for hitting milestones are all available via the app. The Just Say app was inspired by young people involved in a local youth project called SILX based in Blyth who have worked with us and Northumberland County Council to develop the app. It is available to download on the App store and Google Play.
Find out more at www.northumbria.nhs.uk/justsay.
Mental Health Resource for Young People: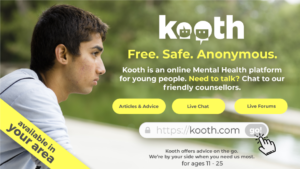 We are delighted to announce that Kooth Plc is working in partnership with the Royal Agricultural Benevolent Institution (RABI) to deliver mental health and wellbeing support to farming families across England and Wales. Kooth and Qwell are available to all farmers and farming family members over the age of 10 with no referrals, waiting lists or thresholds to meet. Services are completely anonymous and can be booked ahead of time.
Kooth (CYP 10-18) and Qwell (18+) can be accessed by visiting www.rabi.org.uk/kooth.
Kooth and Qwell provide a safe, secure means of accessing help via the internet. By accessing these services you can benefit from:
A free, confidential, anonymous and safe way to receive support online
Out of hours' availability. Counsellors are available from 12 noon to 10pm on weekdays and 6pm to 10pm at weekends, every day of the year, on a drop in basis
Online Counselling from a professional team of BACP qualified counsellors trained to understand the farming community, is available via 1-1 chat sessions or messaging on a drop in basis or via booked sessions
Discussion Boards which are all pre-moderated allow young people to access peer to peer support
Online Magazine full of moderated articles, including farming specific content, many of which are submitted by users offering advice and guidance on a huge range of topics
No referral is required. You can register for Kooth and Qwell independently at www.rabi.org.uk/kooth
Please find details below of 4 new videos: 3 for people with learning disabilities and 1 for carers.
Explaining the Tier system in England: https://youtu.be/H8_t22Om1QY
This video is for people with learning disabilities to help them understand about the tier system in place in England.  It describes what you can and can't do.
Making Friends with your Face Mask:  https://youtu.be/JktalrbL3T4
This video is for people with learning disabilities to help them understand why wearing a face mask is important, how to find a face mask that suits them and how to get used to wearing it.
Supporting a person with a learning disability to wear a face mask: https://youtu.be/nYf6Gt7C08A
This video is for family members or carers of people with learning disabilities to help them understand why wearing a face mask is important, how to find a face mask that suits the person they support and how to help them  get used to wearing it.
Christmas Bubbles – explaining the coronavirus rules over Christmas: https://youtu.be/bBypR7Xxvy8
This video is for people with learning disabilities to help them understand the rules on Christmas bubbles over the Christmas period.
We all want to get as well as possible this winter to protect us & our loved ones. It's really important that people with a learning disability & anybody who supports them to get a flu jab & AHC this year.
Find out more here: https://www.youtube.com/watch?v=e3ZSPDyBAVA
#GetWellforWinter #DoYourBit
24 Hour All Age Mental Health Crisis Response
As of Monday 30 March the CNTW Universal Crisis Team has moved to 24 hours for all ages (including Children and Young People) in need of an Urgent Response.
The contact number is: 0303 1231146
https://www.childrensmentalhealthweek.org.uk/
Improving Childrens Mental Health:  https://www.place2be.org.uk
https://www.dementiamatters.net/
https://www.alzheimers.org.uk/
https://www.theguardian.com/lifeandstyle/2018/sep/03/seven-ways-to-help-avoid-dementia?fbclid=IwAR0bsodgcLs-njcbm_auHJ66XakJgLrXBITPx8ebHjP0nUM_h1SeGZKi5Ng
Barnardo's Young Dads Development Work in Northumberland North Tyneside: