Welcome to the very first Well Up North Social Prescribing Newsletter:
Social Prescribing THE SCOOP March 2021
Some of our Patient Participation Group members have trialled various ways of accessing GP services and have shared their experiences. The first thing they are going to cover is the NHS app.  
The NHS app has been designed to allow you to access a range of services on your tablet or smartphone. You can use the app to order repeat prescriptions, book and manage appointments, and also view your health information including details of any allergies you may have, your vaccine records and any consultations and test results.
To start using the app, you need to firstly download it from your app store. You'll be asked a range of questions about yourself such as your email address, mobile phone number and date of birth, and then finally you will be asked to identify yourself. To do all of this you will need to have the following to hand:
Your email address
Your NHS number
Your date of birth
Your post code
A form of photo ID such as your passport or driving licence
Your smartphone, which will need to include a camera
Steps to register and log in:
Once you open the app, you need to firstly enter your email address – you'll then be asked if you want to set up a new login. Select that option and press 'Continue'.
Choose a password and then click continue to agree to the terms of use.
You will then be sent an email to check the address. This will mean closing the NHS app and then checking your emails to confirm receipt.
Once you've done that, go back into the NHS app and click to say you have confirmed your email address.
Next, you'll be asked to enter your mobile number and a security code will be texted to you. Enter this six code number into the box and click continue.
You will then be asked for your NHS a number – enter this in the box.
Enter your date of birth.
You will then be presented with a page of information about the use of the app, terms of use, the privacy policy and cookies. Click to confirm you have understood and are willing to accept these, and then press continue.
You will then be asked about sending notifications and again need to press to confirm these and to continue.
You will be given some log in options, for example if your mobile device supports fingerprint or face recognition, these can be used to access the app. Confirm if you would like to use these as options.
Getting this far, will give you limited access to the NHS app. To get fuller access including the ability to book appointments and repeat medications, you will need to prove your identity and confirm which is your GP practice. Press continue to do this.
The next page, asks a number of questions and you will need to choose a form of photo ID (such as driving licence or passport) in order to prove your identity. Select which form of ID you want to use, highlight this, and then press continue.
Take a photo of your ID using your phone and following the instructions on the screen.
Next you will be asked to scan your face using your phone camera. Again, follow the instructions on the screen to allow the face scan.
All being well, you will receive an email within the next two hours, to say that your identity has been confirmed.
When you next log in to the app, the final step is to connect your NHS account to the GP practice. Press on the link to do this, and you should then be able to access your NHS account. This will enable you to make appointments with the practice staff and order repeat prescriptions.
If you would like to go a step further and access details of your test results and consultations through the NHS app, please contact the practice for further advice on how to do this.
Unpaid Carers
The JCVI (Joint Committee on Vaccination and Immunisation) has included unpaid carers on the vaccination priority list (UK wide) in group 6. Many carers will be in a group higher up the list due to age if they are over 65. You can find the list of groups here. As background, you may also be interested in reading our press release.
https://www.carersuk.org/…/coronavir…/covid-vaccine-faqs
(list of groups): https://www.gov.uk/…/why-you-have-to-wait-for-your…
(press release):
https://www.carersuk.org/…/carers-uk-welcomes-new-jcvi…
Anyone living or working in the county can be a Northumberland Community Champion, this includes residents, workplace representatives and community and voluntary groups.
https://www.northumberland.gov.uk/Community-Champions.aspx
Good afternoon. If you are aged over 70 or clinically extremely vulnerable and you haven't had your vaccine yet or don't have an appointment – please contact the surgery on 01670 511393 to arrange an appointment.
Many thanks
Greystoke Patient Participation Group met earlier this week and a member writes:
"Tonight was the regular Zoom chat for members of the Patient Participation Group (PPG) where we heard about all the productive work the staff were managing in these tough times. Whilst we are all focused on Covid vaccinations it is easy to forget there is still the day to day work to manage, and in a time of usual winter pressure, there is the additional burden of backlog demand from patients who had understandably delayed seeking support during the previous lockdowns.
It is really positive to note some new ways of consulting patients with Long Term Conditions is improving access and as a member of the PPG I would encourage you to try the e-consult arrangements. We all noted that the telephone lines are 'hotlines' and getting through is difficult at certain times so why not try to request a non urgent or same-day appointment by going online as an alternative to phoning the practice?
Finally we all wanted to thank the staff for all of their dedication and tireless work in providing care and support to our practice population. It is recognised General Practice is at the mercy of vaccination supply and the flexibility of staff to reprioritise their workload with very little notice is commendable. When we hear that staff are so happy when they can get another 100 vaccinations into arms it makes us all feel blessed to have such enthusiastic staff supporting us all to keep safe and well"
Author Karen Herne – PPG Member Greystoke Surgery
Free PPE for unpaid carers
Unpaid carers across the country who do not live with the people they care for can now benefit from free PPE through a new national scheme, the government has confirmed.
https://www.gov.uk/govern…/news/free-ppe-for-unpaid-carers
Good afternoon. We have now received confirmation of vaccine delivery for this coming week at our Alnwick hub.
Our team will be ringing patients within the 70-75 age and clinically extremely vulnerable groups to book appointments.
Please don't worry if you haven't had a call yet. We will not forget about you or miss you. Unless you advise us you don't want the vaccine, we will continue to make contact with you.
Centre for Life have also sent appointments out.
We're making amazing progress within the top 4 cohorts and can we also take this opportunity to thank our brilliant community nursing team who have completed our housebound patients this week.
Best wishes
Barnardo's Young Dads Development Work in Northumberland North Tyneside: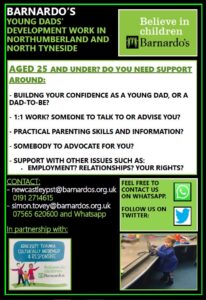 Wellbeing Support for Farming Families
We are delighted to announce that Kooth Plc is working in partnership with the Royal Agricultural Benevolent Institution (RABI) to deliver mental health and wellbeing support to farming families across England and Wales. Kooth and Qwell are available to all farmers and farming family members over the age of 10 with no referrals, waiting lists or thresholds to meet. Services are completely anonymous and can be booked ahead of time.
Kooth (CYP 10-18) and Qwell (18+) can be accessed by visiting www.rabi.org.uk/kooth.
Kooth and Qwell provide a safe, secure means of accessing help via the internet. By accessing these services you can benefit from:
A free, confidential, anonymous and safe way to receive support online
Out of hours' availability. Counsellors are available from 12 noon to 10pm on weekdays and 6pm to 10pm at weekends, every day of the year, on a drop in basis
Online Counselling from a professional team of BACP qualified counsellors trained to understand the farming community, is available via 1-1 chat sessions or messaging on a drop in basis or via booked sessions
Discussion Boards which are all pre-moderated allow young people to access peer to peer support
Online Magazine full of moderated articles, including farming specific content, many of which are submitted by users offering advice and guidance on a huge range of topics
No referral is required. You can register for Kooth and Qwell independently at www.rabi.org.uk/kooth
ALNWICK COVID VACCINE SITE
Here is Tony Brown from AMG/Northumberland CCG with a guide for patients going to Alnwick Cricket Club for the vaccine
– only turn up if you have an appointment
– do not turn up more than five minutes before your allocated time
– not everyone has been invited so if you haven't had a call yet please DO NOT call your practice – this will be a mammoth operation over the coming months
– the teams are taken from local practices meaning it will be harder to get through to them on vaccine days
– DO NOT ATTEND IF YOU HAVE ANY COVID SYMPTOMS
Covid Vaccines – An Update from Well Up North Primary Care Network
Well Up North Primary Care Network are pleased to announce that we will begin offering Covid Vaccinations from next week!
All 12 practices within our network have been working exceptionally hard and within a very short timescale to book almost 3000 appointments for our first cohort of patients. Every appointment has been booked by telephone call with practice teams across the network and will continue through the Christmas and Bank Holiday period.
Please do not contact your practice about the vaccine. This helps to keep phone lines clear and allows practice teams to continue to provide care for patients who need it most. We are using the same members of the team who would usually answer your calls and we thank you for giving us the time we need to do this.
We will continue to contact patients when it is time for them to have their vaccine – There are national guidelines in place which prioritise the order in which we call patients for their vaccinations.
Please check NHS and government websites for the latest news
Our hub sites will be manned on the most part by healthcare professionals from your practice.
As a result of this, there will likely be reduced or limited capacity for routine appointments if you contact your surgery. Many practices within the network area will be operating an "urgent only" system whilst their teams are vaccinating.
On Dec 23rd, we were made aware that there may be a delay with our vaccine delivery – originally scheduled for Monday 28th and now rescheduled for Tuesday 29th. As such, there may unfortunately be some patients whose appointments may need to be cancelled or rearranged due to delays with the vaccine delivery.
This is entirely beyond our control, vaccine deliveries are arranged nationally by NHS England.
We are working hard to get confirmation of our delivery times to ensure a little impact on patients and practice teams as possible – we will be working over the holiday period to ensure the sites are as ready as possible on the 29th
Vaccine Hub Site Locations;
Well Close Medical Group – Berwick-Upon-Tweed
Alnwick Cricket Club – Alnwick
Amble Health Centre – Amble
Do not arrive without an appointment and please don't turn up more than five minutes early to your appointment – space is limited, its very cold, we don't want our patients waiting unnecessarily and have a plan to move people through the vaccine sites in a systematic and safe way.
Thank you for reading, please pass to anyone you think may be interested, please don't call the NHS for your vaccine – we WILL be in touch.
Well Up North
Morpeth – Greystoke, Gas House Lane
Felton
Widdrington
Coquet
Rothbury
Alnwick
Belford
Wooler – Cheviot, Glandale
Berwick  – Union Brae, Well Close
Please find details below of 4 new videos: 3 for people with learning disabilities and 1 for carers.
Explaining the Tier system in England: https://youtu.be/H8_t22Om1QY
This video is for people with learning disabilities to help them understand about the tier system in place in England.  It describes what you can and can't do.
Making Friends with your Face Mask:  https://youtu.be/JktalrbL3T4
This video is for people with learning disabilities to help them understand why wearing a face mask is important, how to find a face mask that suits them and how to get used to wearing it.
Supporting a person with a learning disability to wear a face mask: https://youtu.be/nYf6Gt7C08A
This video is for family members or carers of people with learning disabilities to help them understand why wearing a face mask is important, how to find a face mask that suits the person they support and how to help them  get used to wearing it.
Christmas Bubbles – explaining the coronavirus rules over Christmas: https://youtu.be/bBypR7Xxvy8
This video is for people with learning disabilities to help them understand the rules on Christmas bubbles over the Christmas period.
Greystoke Surgery now have 2 GP Link Workers, Miranda and Andrew – please see poster below which gives more information about their role and how they can help our patients.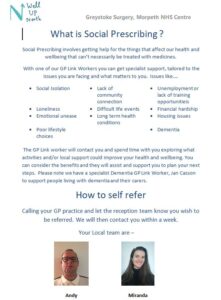 Mental Health Resource for Young People: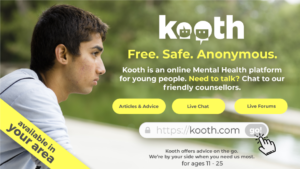 We all want to get as well as possible this winter to protect us & our loved ones. It's really important that people with a learning disability & anybody who supports them to get a flu jab & AHC this year.
Find out more here: https://www.youtube.com/watch?v=e3ZSPDyBAVA
#GetWellforWinter #DoYourBit
County Lines – Parent and Carer Leaflet, with contact details:  County Lines -V2-final Parent and Carer Leaflet
Northumberland CCG animation video – The CCG is pleased to showcase this short animation to highlight the amazing work being undertaken in primary care throughout the COVID-19 pandemic. The animation also contains key messages to patients on what they can expect when accessing primary care.
Link to video: https://youtu.be/zOVwUBACF4Y
Northumberland CCG have asked practices to share the following standard message across Northumberland to advise patients of expected timeframes:
Flu 50-64 year age group:
Please note that people in the 50-64-year old age group will not be vaccinated until November and December, providing there is sufficient vaccine, and no appointments will be offered for this age group until then. This is to ensure that those who are most at risk are vaccinated first. If you are 50-64 and you are in one of the other groups which is eligible for the flu vaccination, for example you have a health condition which puts you at risk from the flu, you will be invited earlier.
Practices are still awaiting guidance from the local CCG as to how and who will deliver these vaccines.
Shielding and local lockdowns information
Most of the country have not been asked to shield since 31 July 2020. If you are extremely clinically vulnerable and live or work in a LOCAL LOCKDOWN AREA you will need to take steps to shield.
https://digital.nhs.uk/…/s…/shielding-and-statutory-sick-pay
Sunflower lanyards
The sunflower lanyard is a discreet way for adults and children with hidden disabilities to show that they need additional support or just a little bit more time. Furthermore, if you see someone with an 'exempt' card – this indicates that they have a hidden disability and have a reasonable excuse not to wear a face-covering.
NHS COVID-19 Vaccine research registry
Volunteer to help find the vaccine for COVID-19 in Northumberland
Join the national effort and sign up for the NHS COVID-19 vaccine research registry. Be part of the fightback against the virus by volunteering to be contacted by researchers to take part in COVID-19 vaccine research. There are a number of vaccines being identified and safety-tested at the moment, but only large scale studies can give researchers the information needed abo…ut how effective they are. The NIHR is working with the NHS and aims to recruit half a million people onto the registry by October, which will allow people to be put in touch with the vaccine studies in the coming months. Researchers are looking for people from all backgrounds, ages and parts of the UK – including both people with or without existing health conditions – to take part in vaccine studies, to make sure that any vaccines developed will work for everyone. The service is available to anyone aged 18 or over, living in the UK. There is no obligation to join in any study, if you are contacted. But by taking part, you could help researchers find vaccines to protect us all more quickly – which in turn could help the NHS and save lives.
Self-referral to the 'Healthier You' NHS Diabetes Prevention Programme
People who are at high risk of developing type 2 diabetes can now be fast-tracked into the Healthier You NHS Diabetes Prevention Programme (NDPP) without having to go through a healthcare professional.
Diabetes UK has developed an online tool called 'Know Your Risk'
https://riskscore.diabetes.org.uk/start
which can generate a self-referral to the NDPP if a person meets a certain criteria. The tool calculates a person's risk of developing type 2 diabetes by answering a series of basic questions including age, weight and ethnicity.
If your score comes back as moderate or high, you will now be able to refer yourself to a local 'Healthier You' service for support remotely or online.
Those who qualify will be able to choose how they complete the programme, either by joining group sessions by video link or telephone with an experienced coach or through digital support, which includes online peer support groups and in some areas, wearable tech.
The 9-12 month programme is designed to stop or delay the onset of type 2 diabetes through a range of personalised lifestyle interventions, including:
• Education on lifestyle choices
• Advice on how to reduce weight through healthier eating
• Bespoke physical activity programmes
The programme supports people to lose weight and adopt healthier habits and has already helped hundreds of thousands of people.
This is to complement and not to replace the support and services offered by GP Practices.
Your Covid Recovery is a new NHS website designed to help people recover from the long-term effects of COVID-19 and support them to manage their recovery. It includes information from rehabilitation experts about how to manage ongoing symptoms and health needs at home, and signposts to sources of support.
https://www.yourcovidrecovery.nhs.uk/
New Guidance on Face Coverings and When to Wear:
https://www.gov.uk/government/publications/face-coverings-when-to-wear-one-and-how-to-make-your-own/face-coverings-when-to-wear-one-and-how-to-make-your-own
Guidance re Increased Isolation Periods from 7 days to 10 days:
https://www.gov.uk/government/publications/covid-19-stay-at-home-guidance/stay-at-home-guidance-for-households-with-possible-coronavirus-covid-19-infection
The North Primary Care Network are re-advertising for a GP link worker for Morpeth area. Please use link to apply etc. https://beta.jobs.nhs.uk/candidate/jobadvert/A1725-20-1364
Video Consultations:
Our Clinicians are starting to introduce video consultations to our various methods of communication with patients.
Airmid is the new health management app from our clinical system provider that provides more functionality that the SystmOnline app for example, booking/cancelling appointments, ordering repeat prescriptions and online access to your medical record.  One of the functions available that we will be looking to use in the near future is video consultations.  Airmid is now available to download from your app store:
Apple – https://apps.apple.com/gb/app/airmid-uk/id1472749780
Android – https://play.google.com/store/apps/details?id=px.mw.android.aihealth.patient.live.production&hl=en_GB
To log in, you simply use your existing SystmOnline username and password.  If you aren't already signed up to this, please contact reception on 01670 511393.
Covid-19 symptom self-management below  – Patients can now be provided with expert information and advice on how COVID-19 impacts their specific palliative or long-term condition and how they should manage it during the pandemic. These conditions are listed below:
As you will be aware patients with symptoms of Coronavirus can now access testing. If you wish to do so please visit nhs.uk/coronavirus or ring 119. Please follow the link to access guidance as to how the tests work and what they mean.
https://www.gov.uk/government/publications/how-tests-and-testing-kits-for-coronavirus-covid-19-work/for-patients-the-public-and-professional-users-a-guide-to-covid-19-tests-and-testing-kits
Diabetes Befriending Service – please see link:  Diabetes Befriending Service
Please find attached letter which may be of use to our patients, focussing on health, well-being and practical help:
Greystoke Wellbeing Information and Guidance Letter Covid 19
Sick children: There have been concerns raised that parents are not presenting ill children (other than COVID) to 111 service, A&E or primary care. The following information has been produced by the Royal college of Paediatrics and Child Health to assist parents https://www.rcpch.ac.uk/sites/default/files/2020-04/covid19_advice_for_parents_when_child_unwell_or_injured_poster.pdf
Domestic Abuse:
Local & National helplines : –
NDAS – 01434 608030, website – http://www.nda.services
DASSN – 01670 820199, 24 hr help line
GRACE – rape crisis services, 0191 2220272, http://www.gracenrc.org.uk
Police – 999 or 101.
National Domestic Abuse Helpline 0808 2000 247
Mental wellbeing and keeping safe during the coronavirus outbreak: sources of advice and support :  COVID-19 suicide prevention and mental health support March 2020
COVID 19 AND SAFEGUARDING
National Domestic Violence Helpline: 0808 2000 247 https://www.nationaldahelpline.org.uk/
NSPCC helpline: 0808 800 5000 If you're worried about a child, even if you're unsure, contact NSPCC professional counsellors for help, advice and support.
Childline 0800 1111: Offers free, confidential advice and support for any child 18 years or under, whatever the worry.
MIND: Mental Health Support with specific advice on 'Coronavirus and your wellbeing'. www.mind.org.uk
YoungMinds: Supporting children and young people and their parents/carers with their mental health and wellbeing. Specific advice on managing self-isolation and anxiety about coronavirus.
ICON: Babies cry: You can cope. http://iconcope.org/
SafeLives: Specific resources for domestic abuse and COVID. http://safelives.org.uk/news-views/domesticabuse-and-covid-19
IRISi interventions: irisi.org/iris/find-your-local-iris-site/
North East Regional Special Operations Unit Notification
Numerous phone call scams are circulating. Scammers use these calls to steal your money and other information from you.  Please see link:  Scam-phone-calls-
Patients at highest risk of COVID – Patient enquiries
NHS Digital has identified and has already written to a number of patients considered at highest risk of Covid.
Patients who think they should be considered 'High Risk' are invited to self-refer using the following link: https://www.gov.uk/coronavirus-extremely-vulnerable
NHS Digital is collating these registrations nationally and will inform all practices of those patients directly, by providing a list for practices to consider adding.
24 Hour All Age Mental Health Crisis Response
As of Monday 30 March the CNTW Universal Crisis Team has moved to 24 hours for all ages (including Children and Young People) in need of an Urgent Response.
The contact number is: 0303 1231146
B12 Injections – All patients who receive B12 injections will be sent the following letter:
As I am sure you are aware, for the public's safety, all routine work in the NHS has been stopped during the Covid-19 crisis. Every clinical contact between a healthcare worker and patient is being reviewed to assess if the risk it brings to all parties is justified.
We have received guidance from specialists about vitamin B12 injections. It is based on research that has shown that if any patient who has been having regular B12 injections stops receiving them they have enough B12 stored in their liver to last at least 2 years. You can, therefore, come to no harm if a B12 injection is deferred.
As a result, you will appreciate that we are unable to justify any appointments for B12 injections during the crisis, apart from for patients with a new diagnosis of B12 vitamin deficiency who have not had the required injections before.
Across the Well Up North primary care network, GPs have agreed to defer all vitamin B12 injections for 6 months.
We must, please, ask you to respect this decision and not to telephone the surgery requesting 'exceptional circumstances' as our specialists inform us that there are none. Please allow your GPs and nurses to spend their time instead caring for the seriously ill patients they must treat.
Your recall date will be moved 6 months on from when your next injection is due and we will contact you at that time.
Finally, please do note that evidence shows the majority of patients receiving B12 injections in Northumberland can still absorb B12 from oral vitamin supplements. We suggest you speak to your pharmacist about obtaining these. The recommended dose is cyanocobalamin 50mcg 3 daily.
Thank you for your understanding and cooperation.
Yours sincerely
GP Partners
NCC – Safeguarding adults info for self-isolating
LINKS – PATIENT INFO CORONAVIRUS – please click here
Please follow link to access isolation note – patients to complete and download themselves – many thanks
https://111.nhs.uk/isolation-note
Important information about the coronavirus (COVID-19)
The NHS and Public Health England (PHE) are well prepared for outbreaks of new infectious diseases. The NHS has put in place measures to ensure the safety of all patients and NHS staff while also ensuring services are available to the public as normal.
The Chief Medical Officer has announced that the country is moving into the 'Delay' stage of the response to coronavirus from Friday, 13th March 2020.
The new advice issued by the Chief Medical Officer is as follows:
Stay at home for 7 days if you have either:
a high temperature
a new continuous coughDo not go to a GP surgery, pharmacy or hospital.Use the NHS 111 online coronavirus service if:
You do not need to contact 111 to tell them you're staying at home.
you feel you cannot cope with your symptoms at home
your condition gets worse
your symptoms do not get better after 7 daysOnly call 111 if you cannot get help online.Everyone is being reminded to follow Public Health England advice to:
Stay At Home advice can be found here
Always carry tissues with you and use them to catch your cough or sneeze. Then bin the tissue, and wash your hands, or use a sanitiser gel.
Wash your hands often with soap and water, especially after using public transport. Use a sanitiser gel if soap and water are not available.
Avoid touching your eyes, nose and mouth with unwashed hands.
Avoid close contact with people who are unwell.
More information can be found on the NHS website here
COVID-19 Northumberland Community Response
Please follow this link for local support:  https://bit.ly/39fvDgs
NCC – Safeguarding adults info for self-isolating
LINKS – PATIENT INFO CORONAVIRUS
General NHS advice
https://www.nhs.uk/conditions/coronavirus-covid-19/
Pituitary/ adrenal insufficiency (including steroid sick day rules)
https://www.endocrinology.org/news/item/14050/Coronavirus-advice-statement-for-patients-with-adrenal%2fpituitary-insufficiency
Underlying lung disease (British Lung Foundation)
https://www.blf.org.uk/support-for-you/coronavirus
People with Asthma
https://www.asthma.org.uk/advice/triggers/coronavirus-covid-19/
People with Diabetes
https://www.google.co.uk/amp/s/www.diabetes.org.uk/about_us/news/coronavirus%3famp.
Sick day rules T1 diabetes
https://trend-uk.org/wp-content/uploads/2019/01/A5_T1Illness_TREND_FINAL.pdf
Sick day rules T2 diabetes
https://trend-uk.org/wp-content/uploads/2018/12/A5_T2Illness_TREND.pdf
People affected by Stroke
https://www.stroke.org.uk/news/coronavirus-information-people-affected-stroke
Pregnant women
https://www.rcog.org.uk/en/guidelines-research-services/guidelines/coronavirus-pregnancy/covid-19-virus-infection-and-pregnancy/
Children/young people T1 diabetes
https://jdrf.org.uk/coronavirus-covid-19-information-for-people-living-with-type-1-diabetes/
People with Heart/circulatory disease
https://www.bhf.org.uk/informationsupport/heart-matters-magazine/news/coronavirus-and-your-health
Older people
https://www.ageuk.org.uk/information-advice/health-wellbeing/conditions-illnesses/coronavirus/#
Young people with anxiety
https://youngminds.org.uk/blog/what-to-do-if-you-re-anxious-about-coronavirus/
Adults with anxiety
https://www.mind.org.uk/information-support/coronavirus-and-your-wellbeing/
People with Rheumatoid Arthritis
https://www.nras.org.uk/news/coronavirus-what-we-know-so-far
People with cancer
https://breastcancernow.org/about-us/media/statements/advice-coronavirus-people-cancer
Children and Young People with Cancer
https://www.cclg.org.uk/Coronavirus-advice
People with inflammatory bowel disease
https://www.crohnsandcolitis.org.uk/news/updated-wuhan-novel-coronavirus-advice
People with Parkinson's disease
https://www.parkinsons.org.uk/news/understanding-coronavirus-and-parkinsons
People with Multiple Sclerosis
https://www.mssociety.org.uk/about-ms/treatments-and-therapies/disease-modifying-therapies/covid-19-coronavirus-and-ms
People with Motor Neurone Disease
https://www.mndassociation.org/mnd-and-coronavirus/
People with liver disease and liver transplant
https://britishlivertrust.org.uk/coronavirus-covid-19-health-advice-for-people-with-liver-disease-and-liver-transplant-patients/
People with kidney disease including dialysis
https://www.kidneycareuk.org/news-and-campaigns/coronavirus-advice/
People with epilepsy
https://www.epilepsysociety.org.uk/news/epilepsy-and-coronavirus-09-03-2020#.XnD_g8CnyEc
People living with HIV
https://www.tht.org.uk/news/coronavirus-covid-19
https://www.childrensmentalhealthweek.org.uk/
Improving Childrens Mental Health:  https://www.place2be.org.uk
https://www.dementiamatters.net/
https://www.alzheimers.org.uk/
https://www.theguardian.com/lifeandstyle/2018/sep/03/seven-ways-to-help-avoid-dementia?fbclid=IwAR0bsodgcLs-njcbm_auHJ66XakJgLrXBITPx8ebHjP0nUM_h1SeGZKi5Ng
How are you? – Get a FREE personalized health score when you complete this 10 minute quiz
Healthwatch Northumberland are keen to hear what patients would do to give people more control of their care and what they would do to give people better support. They

can provide you with hard copies of the survey upon request

:

https://healthwatchnorthumberland.co.uk/nhs-long-term-plan-what-would-you-do/
The memory handbook – Alzheimer's Society
The memory handbook is for people with mild memory problems. It contains information about memory problems and practical strategies on how to live well with them.  please find link below:
alzheimers.org.uk/memoryhandbook
Prescribing of over the counter medicines is changing
Your GP, nurse or pharmacist will not generally give you a prescription for over the counter medicines for a range of minor health concerns.
Instead, over the counter medicines are available to buy in a pharmacy or supermarket in your  local community.  The team of health professionals at your local pharmacy can offer help and clinical advice to manage minor health concerns and if your symptoms suggest it's more serious, they'll   ensure you get the care you need.
Please help the NHS to use resources sensibly.  Leaflet with specified items attached 1a-over-the-counter-leaflet-v1
Patients are encouraged to contact Healthwatch Northumberland, if you would like to feedback about any social care or health care service. Also, should patients have any queries about aspects of health or social care, they are able to signpost to a wide variety of services across Northumberland.  Please see following link:  www.healthwatchnorthumberland.co.uk
Northumberland IMATT Service (Physio)
Patient Information Guide and new telephone number:   0191 250 4235.  N'Land IMATT patient guide 2018
Get Safe Online
The following link https://getsafeonline.org and poster below contain free expert advice for keeping children and young people safe online this Christmas.
Northumbria Police – Internet Safety
Getabout Service
Getabout is a free information and advice service aimed at solving transport needs for patients who have difficulty in accessing essential services in Northumberland. Further information is below.
Getabout – accessing essential services in Northumberland
New Patient leaflets / guides on: 
Speak-Up-Silent-Voices-Leaflet
What-happens-when-you-are-referred
gp-online-services-patient-guide
protecting-your-gp-online-record
what-you-need-to-know-about-your-gp-online-record
young-peoples-access-to-gp-online-services
There are many excellent sources of advice on the internet, for example a simple google search for your symptom. Two sites that are especially useful for patients are NHSDirect and Patient.co.uk.
Some basic advice we offer:
Colds and Flu
These usually start with a runny nose, cough, temperature and aches.  Viruses cause them and antibiotics are of no use in their treatment.
Treatment consists of taking recommended doses of Paracetamol for the temperature and aches and drinking plenty of fluids.  Do not worry if you do not eat for a few days, you will come to no harm.
Diarrhoea and Vomiting
In adults and older children, diarrhoea and vomiting will usually get better on its own.  Treatment consists of replacing the fluid that you have lost and resting the digestive system by having no solids to eat for 24 hours.  Sachets of powders such as Dioralyte and Rehidrat, which can be made into a drink, are available from the chemist.
If the diarrhoea contains blood or there is severe pain or high fever, you should discuss it with your doctor.  Diarrhoea and vomiting in small babies and young children should be treated with caution and the doctor will be happy to see them if the parents are worried.
Backaches and Strains
Many acute strains and sprains will respond to a few days rest and Paracetamol taken for the pain.  Backache will usually respond to a few days gentle mobilisation.  If the symptoms continue, you should consult your doctor.
Pain Leaflet
Nose Bleeds
Sit in a chair (leaning forward with your mouth open) and pinch your nose just below the bone for about ten minutes by which time the bleeding usually stops. If the bleeding continues consult your doctor.
Sprains
First apply a cold compress containing ice for fifteen to thirty minutes to reduce the swelling.  Apply a firm crepe bandage and give a sprain plenty of rest until all the discomfort has subsided.
Chicken Pox
On the first day a rash appears with small red spots about 3-4mm wide.  Within a few hours these develop small blisters at the centre.  During the next three or four days further spots will appear and the earlier ones will turn crusty and fall off.
Calamine lotion may be applied to help the itching.  The most infectious period is two or three days before the rash starts.  Children may return to school as soon as the last blisters have crusted.
A Temperature
A temperature occurs commonly even with mild infections.  In small children it is important to stop the temperature rising too quickly and children should be given Paracetamol syrup, which may be bought from the chemist, Clothing should be removed and the child sponged with tepid water or cooled by giving them a lukewarm bath.
If a temperature is very high and does not come down with the above treatment or you are concerned you should consult your doctor.  A child or adult with a temperature will not come to any harm being wrapped up and brought by car or by pram to the surgery.
Burns
Apply large quantities of cold water to the affected area as soon as possible and maintain this for at least fifteen minutes.  If the burn is greater than 4-5 inches in diameter or the skin is broken you should consult one of the doctors.
Antibiotics
These powerful drugs only work on bacteria and are without effect on viruses.  Unfortunately this means that the common infections such as coughs, colds, flu and sore throats will not be helped by them at all.
The correct treatment is the simple remedies outlined above and we only use antibiotics when they fail, and we suspect that there is a secondary bacterial infection.  Otherwise overuse of antibiotics may lead to their not working in future and more complications like thrush, skin rashes, etc.
Many conditions get better on their own and can be treated successfully at home.  Your pharmacist may be able to help you with these and advise about medicines you can buy over the counter.